Plan B for Beautiful Bengaluru
Can one Plan make for a Green, Clean Bengaluru?
It can. Plan B is an exciting eco-social initiative has been designed to bring planners, green activists and concerned citizens together. It is a creative policy draft that visualises that trees would be blazing and a heady air would waft through the city …. someday!
The initiative was deeply debated on Environment Day, June 12, with panel discussions on urban landscaping, vertical gardens and their benefits, citizens' issues and better eco-friendly environments, sewer water treatment and re-use of grey water and climate change. All these and more issues are important to usher in the Garden City of our Dreams.
SI's illustrious botanist, Dr.Prathibha Vinay, was one of the panelists who spoke on Medicinal plants and herbs, while Program Action Chairperson Rema Ramachandran moderated the event.
Cancer Detection Camp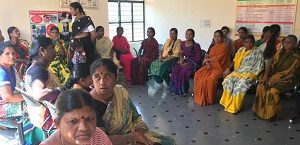 This year's International Women's Day on March 8 was quite purposeful, as SI held a Cancer Detection Camp for their sisters at the Primary Health Centre of Kanakapura taluk, Venkatarayanadoddi, just out of the city's limits.
SIB team, with two other doctors and lab technicians, conducted pap smear tests to detect Cancer of the Cervix in a 100 women, aged between 25 to 40, from nearby villages. About seven women were found to be in need of further tests and care.
The camp ended with a delightful lunch and gifts contributed to the inmates, participants and the team by SIB members Sudha Manandi and Shruthi. 
Sharing giggles and goodies with kids at Sneha Care Home 
One breezy evening. One beautiful meeting. A riot of teddies. Guttural giggles, shy smiles and raucous laughter. Singing, dancing, yelling and playing.
A heap of soft toys, board games, balloons and goody treats.
Cakes, chocolates, juice and chips …
What an enriching day to share for SIB members with children of Sneha Care Home. 
 Protest Rally and Panel Discussion
Orange splashes of women and students marked a protest rally on November 25th, to mark the 'UN Day Against Violence on Women'. There were more than a 100 SI members from all over India, as well as supportive students from St Joseph's School, who marched from Gandhi Square to St Mark's Road.
In orange and black clothes, caps, banners and boards, the rallyists held up their placards at the traffic signals to beam their message across. "Wake up the gentleman" "Say No to Violence" and "Women are everywhere" were some of their missives. Silently, all afternoon, they held up the signs to convey what they wanted to say in front of signals, waiting till the lights turned green and made the traffic zoom again.
On the following day, November 26th, SIB conducted 'Educate to Enable', an electrifying Panel Discussion (watch it Here). Luminaries Uma Mahadevan Dasgupta, (Principal Secretary, women and child development), Shoma Bakre (Founder of 'Let's do some good' and BEETF), Dr Shailaja Shastry (Director of Training and Research Initiatives) and Dr Florence D'Souza (Principal of Carmel High School) were moderated by Vandana Mehrotra (co-founder of 'Social Ventures Solutions'.)
It was a thoughtful and thought-provoking discussion that focussed on chalking out plans for enabling, empowering and educating women. They talked about the value of skill-development and the importance of helping underprivileged sections to take their lives forward with effort and drive.
Meru Garden Project
If your back aches, then rub the skin of a fresh lime over it and feel the pain vanishing!
This is one of a simple set of solutions offered by a book on medicinal plants, compiled by Dr Prathibha Vinay.
The priceless collection of books quickly reached a 1,000 eager donors, in order to contribute to the Meru Community Garden Project  in Kenya. The focus is on 'Educate, Enable and Empower Women'.
The set of home remedies can tell you all about the magic of ginger and barley, among other herbs. Currently, they are contributing to the health and life of the Meru Project. Read about it in Deccan Herald.
Lessons of Life
Sunlight and smiles splashed around SIB's 14th year AGM meet. A visit to an adopted Government School at Kanakapura started the day. After distributing lunch and clothes, President Anuradha shared some wisdom with children in the assembly, giving lessons on the value of reading, learning as well as gender
Members Anita Belogodu and Sudha Manandi took the baton to two different meetings with boys and girls, giving speeches on the importance of self-defence against molestation and the value of hygiene. Five students who did not have toilets at home were identified so that their parents could be counselled.
Sanitary pads were distributed to the girls. Books collected by Past President Sudha Jalan and other members were donated. Earlier gifts of water filters, stone benches, a computer and printer were examined and found to be in good condition. The 14th year AGM meeting at Sudha Manandi's beautiful farmhouse crowned the day.
EVERGREEN PROJECTS
Theatre of the Oppressed: Live action and expressions through fluid movements…Theatre is creating some revolutionary communication in various parts of the city. Read about it in Recent Achievements, The Hindu and Deccan Herald.
Fistful of Grains: Bags bursting with rice and lentils and branded with SIB's logo….These are rich collections of rice and lentils at many elite schools. They are the distributed to needy children by SI. Read more about it in Recent Achievements and in Deccan Herald.
Scholarships for needy children: SI locates meritorious but underprivileged students who need a generous supporting hand in order to complete their education.
Recordings for the visually challenged: SI members enable recordings of books for inmates of Mithra Jyothi, a special school for visually challenged students.